Spare Parts and Consumables
ECO INSTAL
delivers a complete range of spare parts and consumables for air protection systems. When enquiring about a specific element, please provide the unit type or the serial number. Our specialists will follow it and provide you with an adequate purchase offer for this specific element.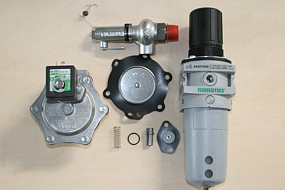 Below, we present exemplary range of products for particular groups of equipment
1.
Bag Filters and Cyclone Filters
• filtrating bags
• support hoppers
• filtrating bag fixing clamp
• solenoid valves, solenoid valve repair kits
• regeneration system elements: T-connectors, blow tubes, connectors, seals
• compressed air reservoirs
• compressed air reduction-filtration set
• elements of mobile regeneration systems: lip seals, flushing nozzles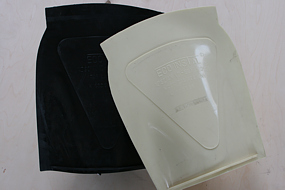 2.
Gas Coolers
• cooling tubes
• fixing clamps with gaskets
• cleaning chains
3.
Transport Systems
• screw shafts
• Screw blades
• end and middle bearings
• slag extractor bands
• rope cables
4.
Industrial vacuum cleaners
• connection sockets
• suction nozzles
• hoses
5.
Metering Systems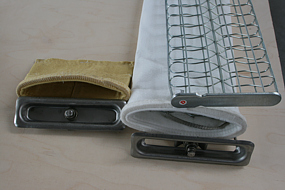 • elements of the EK150 metering valves: rubber elements, tarpaulin covers
• rotary vane feeders: rotors, bodies
6.
Industrial Fans
• rotors
• bearings
• coupling flexible inserts
• vibration dampers
• inlet nozzles
• inlet filters
7.
Accessories
• compensator fabrics
• vibrators
• pulsators
8.
Elements of Control and Measurement Instruments and Automation Systems