Production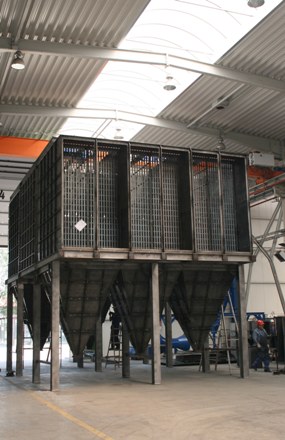 Production process is performed in ECO INSTAL Filter Factory in Kościan industrial buildings of 10 000 m2. There are 5 key Departments.

1.   Production Preparation Department
2.   Installation Department
3.    Painting Department
4.    Industrial Automation Department
5.    Service Department

The factory disposes of modern fully automated machines such as: rollers, bending breakers, equipment for laser metal finishing, plasma cutters, bending machines for metal plates, saws for cutting profiles and tubes. The most of operations are computer operated, which reduces production costs. In the preparation for production process we use modern abrasion clearing chamber.

Due to high efficiency equipment our offer includes services in the fields of load bearing  construction, tanks, storage bins, containers, reactors, service platform and many more semi-finished steel products. You can find all the details of our offer in the Specialist services section.

Proper production process takes place in the Installation Works Department equipped in four overhead cranes. Work stands are equipped with modern auxiliary equipment and tools with utility services. Industrial buildings are accommodated to install large elements.

We use shot-blasting machine in the production preparation process. Our painting room guarantees high quality paint coatings. Anti-corrosive agents are put on by pneumatic spraying method of low content of solid substances and by hydrodynamic method (air-free).

We also have research and development stands equipped with essential measuring equipment used for measuring and testing new products.