ECO-JET VTS & VOS type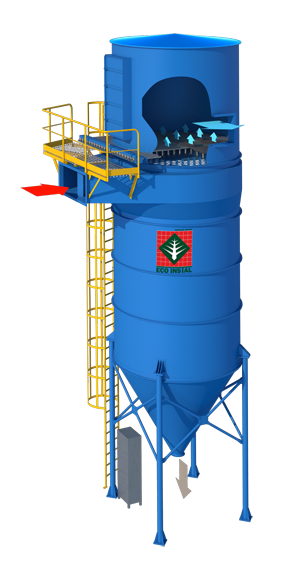 Circular
VOS
and
VTS
type filter cyclones represent the latest vertical bag filter product line. VTS filter type employ vertical layout of the cutting-edge triangle-shaped filter bags, which considerably fosters the increase the filter area, with the same dimensions in comparison to the devices with circular bags. The bags are regenerated by means of pulse compressed air. For this purpose, a distinguished and proved
ECO-JET
solution i.e. the
"DOUBLE-IN"
system has been used. This type of regeneration is characterized by high efficiency of the filter fabric cleaning, simultaneously minimizing the negative impact of factors affecting the life of filter bags. The design of the polluted gas inlet opening of the filter was design so as to dust and air mixture is distributed inside the filter in a homogenous manner, which smoothes balanced and even load of the filter bags with dust.
The reception dust is possible in two ways:
by means of a traditional charging hopper,
by means of a flat bottom equipped with a scraper.
The use of scraper allows to reduce the total height of the filter to a considerable extent.

Our offer includes the following series of filter types: DN2140, DN3300, DN4300 and having the filter bag lengths from 2.5 m up to 10 m.

VTS filters may be joined into high flow rate filter groups to use  them as the basis for the complete filter stations.

VTS filters come also with VOS type circular filter bags.

VOS filters' working area ranges from 100 to 6784 m2, while in the case of VTS filters, the area is from 116 to 8468 m2.

Files to download: